Telemedicine
We understand that access to quality care is limited during these trying times, which is why we are now offering telemedicine visits for urgent and minor care needs, with no appointment needed. Whether you have an insect bite, skin rash, sprain or strain, flu like symptoms, or suspect COVID-19 please call
833-TEC-FAST 833-832-3278
and one of our ER physicians can speak to or video chat with you remotely and advise you of the most appropriate clinical care. Telemedicine visits are available 7 days a week from 8:00AM until 12:00AM, and our facility is open with no wait 24/7/365 in the event our physician recommends further evaluation or immediate treatment. We also now offer drive-thru testing for flu, strep and mono. COVID-19 testing can be done but this capability is based on test availability and if the patient meets
CDC
criteria for high risk individuals.
We honor all private health insurance for telemedicine and ER visits.
Self-pay rates are $300 at the time of the telemedicine visit.
Telemedicine Services and Treatment
Americans are distancing themselves socially to prevent the spread of novel COVID-19, however everyone will still need medical attention at some point. Now you don't have to avoid quality care because you are avoiding contact with others! To counter the spread of COVID-19, The Emergency Center's ER physicians are providing medical advice directly to quarantined individuals via telemedicine. Patients can call or video chat for symptoms such as abdominal pain, back pain, fever, heartburn, cough, sore throat, joint pain, rash, insect bites or stings, flu like symptoms, possible COVID-19 symptoms, and more. Via telemedicine, our ER physician will assess the patient's symptoms, then prescribe necessary treatment medications or determine whether the patient may require an immediate clinical visit. Please note that telemedicine should not be used for chest pain, cardiac arrest, stroke, or any other potentially life threatening emergencies. If your symptoms are life threatening, please go to one of our facilities in
Fort Worth
,
Arlington
, or
San Antonio
immediately. You may also call ahead to reserve a room, though there is never a wait at The Emergency Center. You will be escorted to a treatment room immediately upon your arrival whether you have reserved a room or not.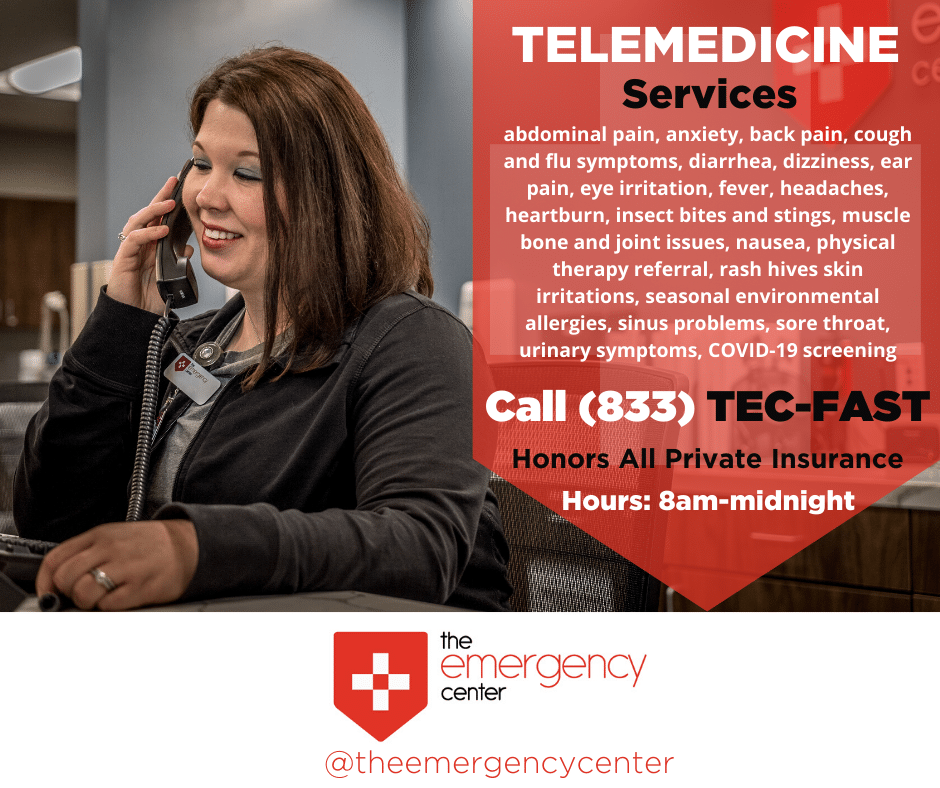 Telemedicine to Combat COVID-19
Telemedicine limits physical contact between patients and physicians and can be a vital tool to combat the spread of infectious diseases and COVID-19. Protect yourself and help contain the spread of COVID-19 by utilizing our new on demand service. Our telemedicine offering serves to connect patients with our emergency room physicians while removing any possibility of being in close proximity to others. Our physicians will provide the appropriate advice to patients remotely, which also helps avoid unnecessary trips to the emergency room. By limiting unnecessary emergency room visits, our telemedicine service allows hospital ERs to have more space and resources for the influx of COVID-19 patients.
Telemedicine On Demand
If our doctors are tending to other telemedicine patients when you call, they will call you back within fifteen minutes. Patients never need to make an appointment for telemedicine or facility visits at The Emergency Center. Our physicians and staff are always ready to handle a medical emergency immediately when necessary. All The Emergency Center locations will remain open with no wait 24 hours a day, 7 days a week, 365 days a year.
Don't hesitate or delay care! Please call 833-TEC-FAST 833-832-3278 now!