Keeping COVID-19 in Check at College
Going off to college–either for the first time or as a returning student–is an exciting time for millions of young people. Due to the COVID-19 pandemic, though, returning to college campuses this year also makes it a time of uncertainty.
During this time, there have been several headline-grabbing outbreaks among college students. Upon closer examination, these outbreaks often have been attributed to students not following public health guidance or taking appropriate steps to protect themselves and others.
College students may have a reputation for being carefree, but they should take COVID-19 seriously.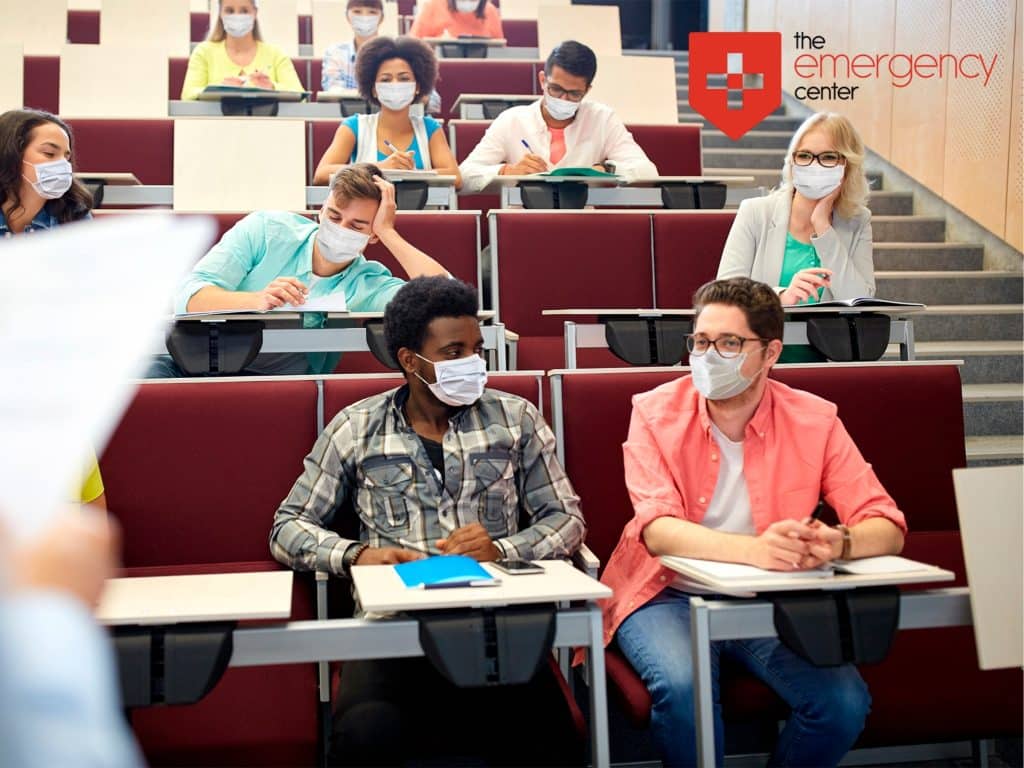 Hands and Face
Frequent hand sanitization is the best way to prevent the spread of germs–the more frequent, the better. Students should take advantage of hand sanitizing stations that may be available whenever they enter a building on campus or should carry hand sanitizer with them.
Wearing a face covering/mask while walking around campus or in class is also invaluable. When everyone is wearing a mask properly, the risk of COVID-19 transmission is reduced. Any face mask should completely cover the mouth and nose.
Being Safer in Any Scenario
College campuses are designed to be a community which can make social distancing a challenge. However, nearly all colleges and universities have taken steps to help protect students. But students must do their part too.
In The Dorms: Lounge areas in dorms may already be closed, so if possible, avoid hanging out in areas where people tend to congregate, whether it's the lobby, laundry room or any other space that draws a crowd. This also means avoiding packed elevators, take the stairs if possible.
In The Dining Hall: Though some seating may already be rearranged, find an area to eat outside. If eating with others, plan to leave at least one seat open between each person.
In Class: Many colleges are offering additional sections and smaller class sizes for on-campus learning. Many colleges are offering hybrid or virtual classes, please remember to follow social distancing and mask guidelines.
In The Library: Take advantage of the new options for accessing resources many college libraries are offering, such as reserving books online for contactless pick-up, virtual consultations with research assistants and checking out eBooks or online journal articles.
In The Gym: Gyms are widely considered high risk spaces. If utilizing the gym equipment, please follow social distancing and mask guidelines. Look for opportunities to get exercise outdoors. Many campuses are beautiful and have miles of walkways or other outdoor spaces nearby that can be used.
On Nights and Weekends: For most students, social life is as much a part of college as classes, but they should avoid bars, clubs, and house and apartment parties. Hanging out in the quad or other outdoor area with appropriate social distancing and a mask is much less risky. For students of age, online happy hours are a much safer option.
In Case of Symptoms
If a student begins experiencing COVID-19 symptoms, he or she should call The Emergency Center and our team can help you get a quick symptom evaluation and recommended course of action. This should include self-quarantining until a diagnosis is made.
College is a time for new experiences. While going to school amidst a global pandemic isn't the new experience anyone was hoping for, making the best of it begins with staying safe.
Enjoy life. We'll be here for the bumps along the way.


The Emergency Center
San Antonio
11320 Alamo Ranch Pkwy
San Antonio, TX 78253
Phone: 210-485-3644