Find a No Wait Emergency Room Near You
Your emergency shouldn't wait. When seconds count, don't get stuck sitting in a waiting room. At the Emergency Center® in San Antonio you will receive care from our doctors and nurses right away.
Call to Reserve Your Room!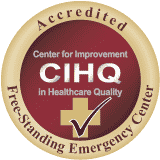 Our freestanding emergency room has received national accreditation from the Center for Improvement in Healthcare Quality (CIHQ), a nationally recognized accreditation program that ensures patients receive safe, quality healthcare.