Spring Fever & Allergies: Everything You Need To Know
Is Spring Fever a Real Illness?
Spring fever may not be a real illness (or at least not an actual physical malady), but there are plenty of other conditions common to this time of year that people should be aware of and take steps to avoid. If you do need care for a spring-related condition, though, The Emergency Center has you and your family covered.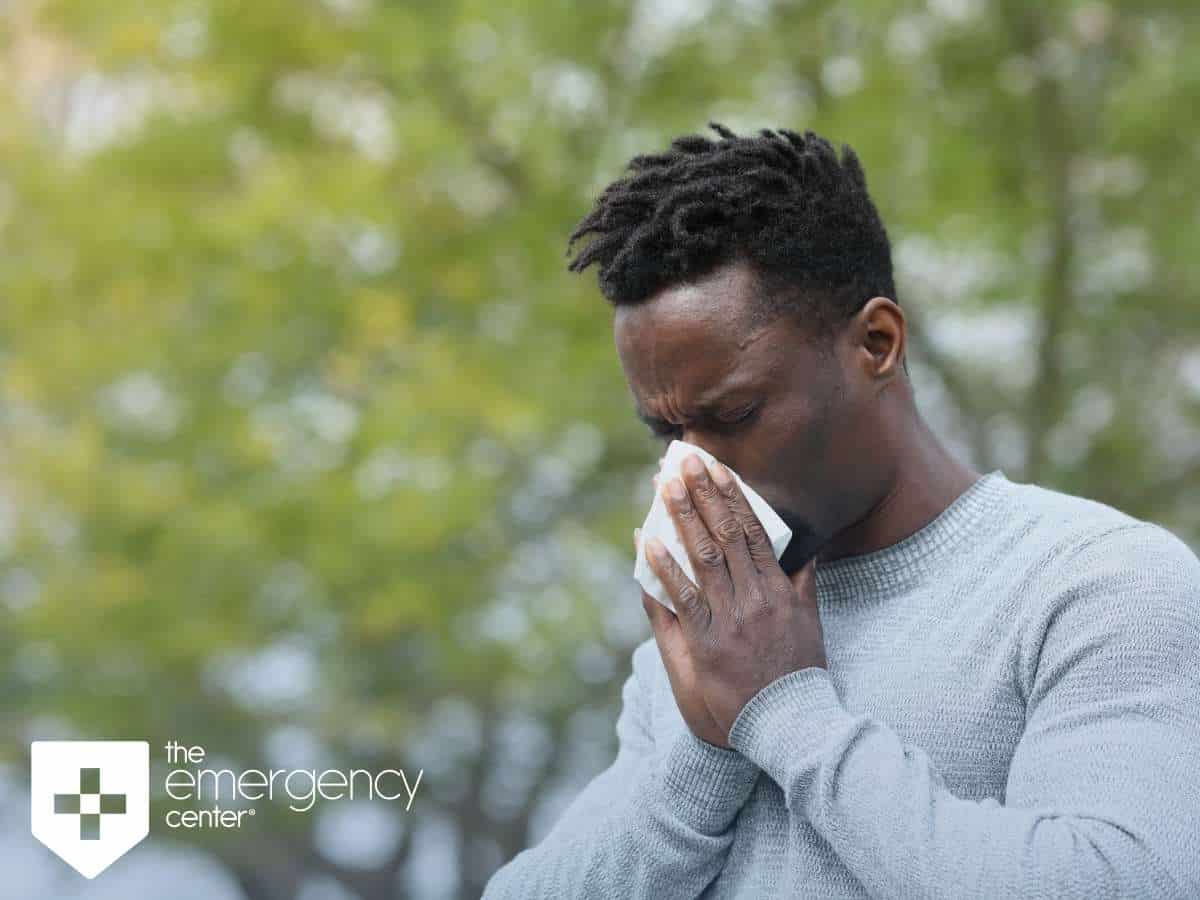 Seasonal Allergies May Lead To Hay Fever
The weather is warming, barometric pressure is seesawing, flowers are blooming and everything is turning green again. You know what that means: the return of seasonal allergies. From tree pollen to ragweed and mold to various grasses, allergens abound during spring. These allergens affect different people in different ways, and in some may lead to hay fever, which has symptoms similar to the common cold:
Runny nose/nasal drip
Sore throat
Puffy eyes
Sneezing
Itchy nose and eyes
Pressure in the sinuses
Spring Allergies Can Also Trigger Symptoms Of Asthma
It's important to realize that sensitivity to environmental allergens can change over time. So even if you were not allergic to something when you were younger, you may be now. Additionally, spring seasonal allergies—along with products like fertilizers and insecticides commonly used during spring—can trigger an asthma attack in certain individuals. Most of the time, spring allergies can be cared for at home with over-the-counter medications and nasal sprays. Many folks with even mild asthma also may need to use their inhaler.
However, if allergies ever cause hives, dizziness, difficulty breathing or significant swelling, seek urgent care at The Emergency Center.
Norovirus, Also Called "Stomach Bug", Is Common During Spring
When the weather warms up, so do highly contagious noroviruses, which can lead to tummy trouble or gastroenteritis. Symptoms may include:
Diarrhea
Headache
Fatigue
Muscle pain
Low-grade fever
These symptoms usually only last a day or two, and they may be lessened with the use of common pain and stomach medications. In the event a fever surges or symptoms last more than a few days, it's a good idea to head to The Emergency Center to find out if it could be something more serious.
When Is The Cold & Flu Season?
Winter is still the top time of year for common colds and the flu, but spring is the second peak season. That may be even more true this spring, as many more people are out traveling and vacationing with the significant drop in COVID-19 cases. That means more opportunity for other contagious illnesses to spread, like colds and flu, as well as other conditions like conjunctivitis—more commonly known as pink eye.
Again, if symptoms do not abate after a few days, or if you experience high fever, difficulty breathing, or uncontrolled vomiting or diarrhea, get help at The Emergency Center.
How To Avoid Getting Sick From Common Spring Illnesses
Suffering from seasonal allergies or illness may seem like a forgone conclusion for many people who always seem to come down with something during the spring months. However, there are a number of steps most anyone can take to reduce their risk or lessen the impact.
Wash hands and disinfect home surfaces often
Avoid touching the eyes, nose or mouth
Wash towels and bedding more frequently
Keep windows closed
Change air conditioning filters
Take daily allergy medication before symptoms begin
Enjoy life. We'll be here for the bumps along the way.

The Emergency Center
San Antonio
11320 Alamo Ranch Pkwy
San Antonio, TX 78253
Phone: 210-485-3644